We bring to you a secured loan pledged against your property as collateral or security. These customized property loans are equally beneficial for self-employed as well salaried individuals.
Also known as mortgage loans, their interest rates are as low as 8.6% per annum*. Whether it's your unforeseen medical expenses, personal expenses such as weddings, or crucial ones like your child's education, we enable you to do it all.
We also offer you a simple application process online. Our dedicated team of professionals will facilitate the process for your further convenience.
Have more questions? Quick Apply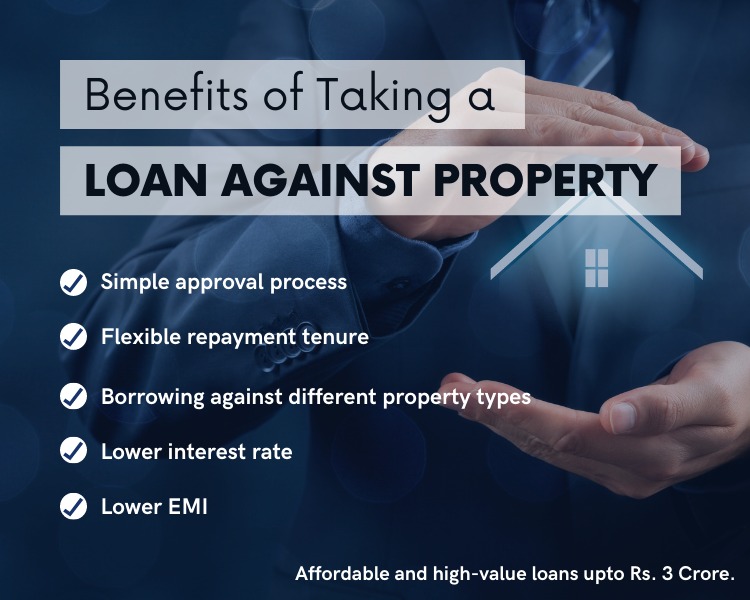 Affordable and high-value loans up to Rs. 3 Crore for self-employed individuals and 1 crore for salaried individuals
Borrowers can easily check the necessary details on an online portal and the entire process is easily carried out virtually.
Flexible tenure starting from 2 years and ranging up to 10 years along with the facility of part repayment at minimal charges
Minimal eligibility criteria and documentation
With a simple eligibility criteria and a limited list of documentation, applying for LAP and getting approval is a short and simple process.
Low EMI
Due to flexible tenure, borrowers can distribute the owed loan amount to reduce EMI.
Lower Rate of Interest and processing fee.
As compared to personal loans and unsecured loans, LAP offers lower interest rates which make LAP affordable.
Low to Nil Prepayment and Foreclosure Charges
If borrowers decide to prepay the loan, they don't have to bear any prepayment charges. Even if they do, it's negligible.
Process To Apply For Loan Against Property
Check whether you are eligible for a Loan Against Property.
Fill out the required details.
Pledge your property as collateral.
Check your bank for the credited loan amount.
Salaried employees
Self-employed individuals
Business owners
Documents Required For Salaried Employees:
Documents of the property the borrower wants to be mortgaged
Income tax returns
Account statement of the last 3 months
Latest salary slip
Address proof such as Aadhar card, voter ID utility bill passport ration card, or any other government-issued document
2 Passport size Photographs
Identity proof such as Aadhar card, voter ID, passport, PAN card.
Address proof such as Aadhar card, voter ID utility bill passport ration card, or any other government-issued document
Identity proof such as Aadhar card, voter ID, passport, PAN card
Documents of the property the borrower wants to be mortgaged
Account statement of the last 6 months
Last three years audited financials